Partnership benefitted blood supply, nonprofits
– By #Tanya Manus, Rapid City Journal staff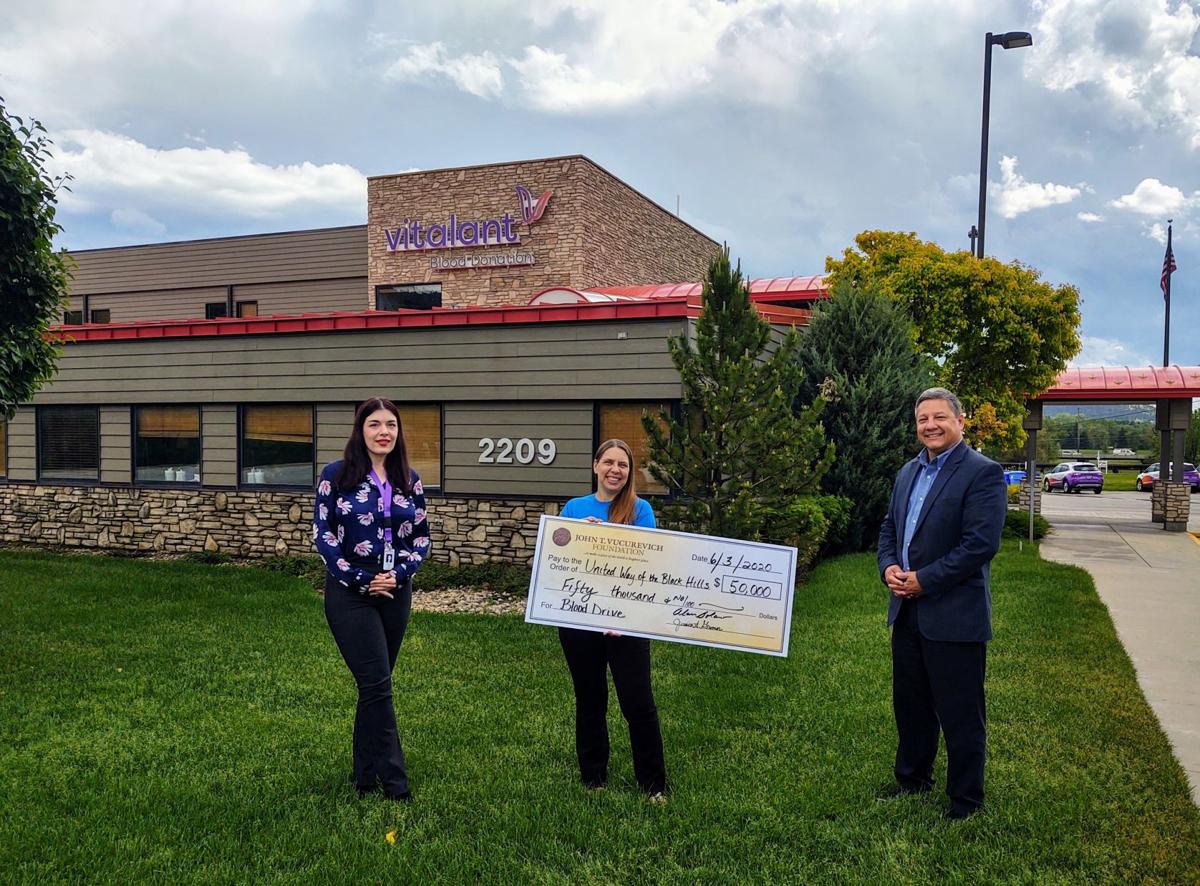 John T. Vucurevich Foundation CEO Alan Solano, right, recently presented a check to United Way executive director Jamie Toennies, center, and donor recruitment representative Molly Barari at Vitalant's Rapid City donation center.
Courtesy
A "Make the Most of the Moment" partnership between Vitalant, the John T. Vucurevich Foundation and United Way of the Black Hills helped Vitalant meet and exceed its goal of 1,000 blood donations during the month of May. However, more blood donations are needed on an ongoing basis.

"Make the Most of the Moment" was an effort to fulfill the blood shortage in the Black Hills caused by the impact of the COVID-19 pandemic, which continues to spread in Pennington County and South Dakota. For every 100 scheduled blood donations at Vitalant in Rapid City in the month of May, the Vucurevich Foundation made a donation of $5,000 to the United We Stand COVID-19 Relief Fund. Overall, there were 1,033 donations of blood given, and the Vucurevich Foundation donated a total of $50,000 to the United We Stand COVID-19 Relief Fund.
"That partnership was a significant help. … We have seen a good response from the Rapid City community," said Brittany Sigel, senior manager of Donor Recruitment for Vitalant. "Vitalant is extremely grateful for the generous community we have and for those who chose to come out and donate and provide that life-saving product. It's really incredible."
The ongoing COVID-19 pandemic has significantly reduced the number of blood drives, Sigel said.
"COVID-19 has affected every industry, including blood donation, and during the pandemic Vitalant had to cancel hundreds of mobile blood donations nationwide (including at Black Hills area businesses and organizations)," she said.
Vitalant is holding select blood drives in Rapid City and the surrounding areas, Sigel said. There are still some businesses and organizations that want to host blood drives. The Rushmore Mall is hosting the 15th annual Guns and Hoses blood drive June 23-26. Appointments are recommended; call 646-2625 or make an appointment online at bloodhero.com. Walk-ins are welcome. If you are feeling unwell, please do not donate blood. Stay home or seek medical care.
People also can schedule an appointment to donate blood at Vitalant's Rapid City center, which is open seven days a week. For more information, go to vitalant.org or facebook.com/VitalantRapidCity/.
When blood is donated locally, at Vitalant's Rapid City center or at blood drives in the region, the blood goes to help local needs first, Sigel said.
"We definitely support our area and the surrounding areas as well. … If we have the ability to send blood products (elsewhere, we do)," she said. "If needed, blood could go to someone across the nation. You could be helping someone in California, or in New York where there was a COVID-19 hot spot."
In the Black Hills, the majority of blood donated is used for routine surgeries, blood disorders or cancer, Sigel said.
"It's important we have regular blood donors. We encourage people to donate three or four times a year. We do have to rely on volunteers in our community," Sigel said. "Even though we might see less tourists this summer, we still will have a large amount of people coming to this area, and any time you have an influx of people, that opportunity is there for accidents or an increased need for blood products."
Vitalant is part of a national organization that can move blood products from one location to another to ensure blood is available to hospitals and health care partners at the right place and time it's needed in 40 states, Sigel said. However, blood only has a shelf life of 42 days, so maintaining an adequate supply is essential. Every day, almost 5,000 blood donations are required to meet the needs for blood products.
Because of the COVID-19 pandemic, extra safety precautions are in place when people donate blood, Sigel said. All donors and Vitalant staff are required to wear masks. All donors' temperatures are taken before they sign in, and temperatures are taken a second time during the donor screening process. Vitalant is enforcing social distancing as much as possible. Vitalant is providing a COVID-19 antibody screening for donors who successfully complete blood donations, Sigel said.
While increasing the amount of blood donations, "Make the Most of the Moment" partnership also gave Black Hills nonprofits a $50,000 boost. The United We Stand COVID-19 Relief Fund was created to provide assistance to nonprofit agencies that are experiencing an increasing demand for their services amidst the COVID-19 pandemic. People across the Black Hills are being affected in multiple ways from the pandemic, including illness, financial struggle, and job losses. Local nonprofits are experiencing an extreme increase in demand for services, nearly doubling or tripling their operational costs. Many nonprofits are in need of more funding to help the communities they serve.
United Way of the Black Hills provides funding to 50 nonprofit agencies that serve Rapid City, Sturgis, Northern Hills (Belle Fourche, Deadwood-Lead and Spearfish) and the Southern Hills (Custer, Edgemont, Hill City, Hot Springs and Keystone). For more information about the United We Stand COVID-19 Relief Fund, go to unitedwayblackhills.org/coronavirus-information.
Original Story: https://rapidcityjournal.com/news/partnership-benefitted-blood-supply-nonprofits/article_d79f8401-7b00-53be-82e4-63853908e4ae.html

---
Last Modified: